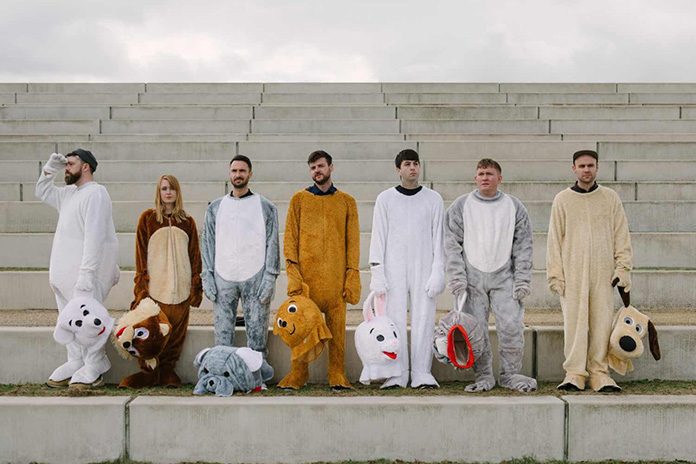 Los Campesinos! made a welcome return late last year, announcing their first album since 2013 and unveiling a new single.
Fast forward three months, and the indie pop band from Cardiff are now a week away from releasing Sick Scenes.
Ahead of gracing us with their new album, they've released another single, titled The Fall From Home.
The previously released tracks, 5 Flucloxacillin and I Broke Up With Amarante, touched upon issues of depression and substance abuse.
The Fall From Home covers no less deep ground, and is vocalist Gareth David's reflection of revisiting a hometown as an adult, and the alienation it can bring.
David, of the track, says: "It's about the villages too stifling to ever allow you or itself to flourish.
"About those who left to protect their mental health or to be the best version of themselves. To those who moved to the city and return home for Christmas and funerals, feeling like a tourist.
"And it's for those who didn't want to or couldn't leave, and are still hanging in there."
The weighty context of the material released to date is a long way from their of-the-time debut album Hold On Now, Youngster… in 2008.
Sick Scenes is released on 24 February on Wichita Recordings.
Los Campesinos! are currently touring in North America, and will be playing dates in the UK in April and May.
Los Campesinos! North American Tour
February 20 – The Neptune Theatre – Seattle, WA
February 21 – The Imperial – Vancouver, BC
February 22 – Doug Fir Lounge – Portland, OR
February 24 – Great American Music Hall – San Francisco, CA
February 25 – The Teragram Ballroom – Los Angeles, CA
February 27 – The Bluebird Theater – Denver, CO
March 1 – Triple Rock Social Club – Minneapolis, MN
March 2 – Metro – Chicago, IL
March 3 – El Club – Detroit, MI
March 4 – Grog Shop – Cleveland Heights, OH
March 5 – Velvet Underground – Toronto, ON
March 6 – Rex Theatre – Pittsburgh, PA
March 8 – Theatre of Living Arts – Philadelphia, PA
March 9 – 9:30 Club – Washington, DC
March 10 – Warsaw – Brooklyn, NY
March 11 – Paradise Rock Club – Boston, MA
Los Campesinos! UK Tour
April 27 – Arts Centre – Liverpool, UK
April 28 – Stereo – Glasgow, UK
April 29 – Queens Social Club – Sheffield, UK
April 30 – The Cluny – Newcastle, UK
May 1 – KOKO – London, UK
May 5 – The Haunt – Brighton, UK
May 6 – Arts Centre – Norwich, UK
May 7 – Hare and Hounds – Birmingham, UK