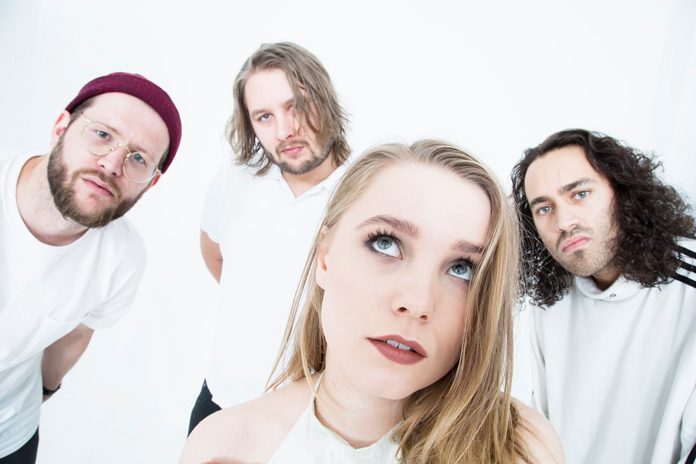 Strange Hellos have been one of the leading lights of the ever-ticking Nordic indie scene this year, releasing a string of singles that we've kept on heavy rotation.
The dreamy stylings of Broken Teenage Heart and Summer are worth repeat listens aplenty, while the jangly kick of Monumental is the work of a band possessing unabashed alt-pop knowhow.
Their debut album Chromatic features everything to date plus new material, forming a solid introduction to Strange Hellos and their 90s-inspired indie pop style.
For new listeners, it's essential, packing in the band's entire range of influences, from shoegaze and psychedelic rock to jangle pop and Fleetwood Mac.
But current fans might be disappointed by the inclusion of only four new tracks, once the introduction is excepted.
Of the fresh material, Gold For The Golden is the undoubted highlight, featuring all of the band's wistful magic and Birgitta Alida Hole's insatiable vocals.
Opener The Prime is a grower, reminiscent of Wolf Alice in places, while The Way Home is a listenable six-minute-plus album closer.
Albert is the one letdown on the track list, a dorky acoustic departure that feels out of place and out of touch with the rest of the band's output.
Chromatic also features minor remixes of all of the previous singles, tweaking the levels and increasing the prominence of certain instruments in the mix.
The changes, presumably made during their sessions at Abbey Road Studios, sadly don't enhance the experience, taking away some of the charm of Monumental, and adding a needless, flow-disrupting outro to Broken Teenage Heart.
That's unlikely to bug newcomers, but previous listeners might find they prefer the single versions – which remain on streaming services – to the album mixes.
Chromatic is nonetheless a strong compendium of the band's work to date, especially for the uninitiated majority, and will age well as an underground indie gem.
The album is out now on Norway's Brilliance Records. Strange Hellos are performing at The Sebright Arms in London on 6 December.