"You can expect to leave smiling. And horny." Or so promise Boytoy, the U.S. foursome touring in Europe next month, to fans looking to head to their UK shows.
The dates follows this week's release of Night Leaf, their bright second album. Recorded to tape in its entirety, it treads a very different path to 2015 debut Grackle, shedding the soaked feedback and aggressive garage aesthetics in favour of laidback summery vibes.
It's an album for hot summer days, a mood no doubt born of their time spent working on it in Topanga Canyon, California. Production comes from Kyle Mullarky, while their new all-female lineup sees La Luz' Lena Simon join them on bass.
Ahead of the global release of Night Leaf this Friday, FEISTY's Katy spoke to Boytoy's Saara Untracht-Oakner, Glenn Van Dyke and Chase Noelle via Skype, revealing more on the album, the tour and their unlikely love of a market town in Lancashire.
Thanks for taking the time to talk to us! You're coming to the UK next month during your European tour, I guess you're pretty excited about that?
Glenn: "Yeah! We're really excited. We haven't really done much there, except we went to Chorley last year for Chase's birthday. She really wanted to go to Chorley."
Really, Chorley? What made you want to go there so much?
Chase: "It was my dream! It was my lifelong dream to go to Chorley."
Saara: "That's what we actually told the immigration officers, because we didn't have a visa…"
Chase: "We shouldn't really say that!"
Saara: "It doesn't really matter, we're getting one now! We played a show with some really nice kids, and we ended up staying at one of their mom's houses, because what he'd offered us was floor space and shower curtains as blankets."
Glenn: "His mom was so cool, though. We called her Rock Donna."
Chase: "Hot Rock Donna!"
Glenn: "We only had two shows in the UK, meaning we would have paid money for a visa and not broken even, so we decided to take the risk. We came up with this big story about Chase wanting to go to Chorley and choreographed what we were going to say, but we said about two words and they let us go."
Saara: "I think because we were in a mini van, when we said, 'Oh, we might play a few shows', they found it cute and said to go ahead. If we'd been in a tour van it might have been a problem."
Glenn: "But we are getting a visa this time."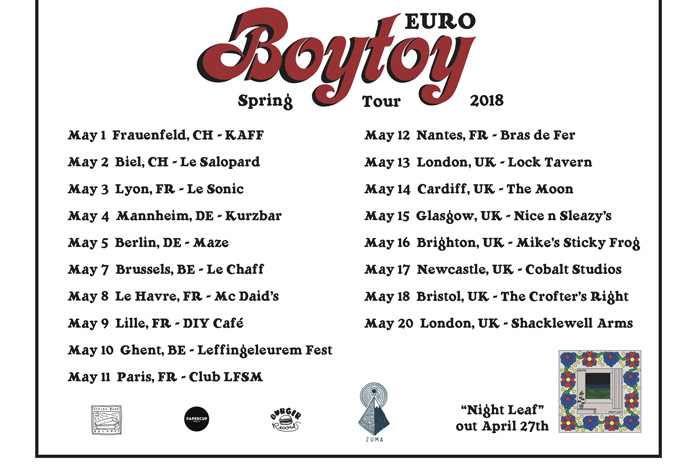 It's quite difficult sometimes for U.S. bands to play in the UK, for the obvious reasons of cost and distance. How hard was it set to this tour up?
Saara: "This is our easiest European tour. It's our third time, and we're finally working with the team that we want to work with, and it's so nice and far less stressful than the past couple of times."
Glenn: "Our record label's in the UK, so they know stuff. Plus I guess after our trip to Chorley, the UK obviously just fell in love with us!"
What can British fans expect from your shows?
Chase: "Sexy! Scary! … Ginger!"
Saara: "You're just naming all of the Spice Girls."
Chase: "Baby!"
Saara: "Every show's so different."
Glenn: "It's kind of odd to tell people what to expect. Like, we could say 'live chickens', and then we've got to come through."
Saara: "Like, maybe we know our set we're going to play, but we never know what to expect. But you can expect to leave smiling."
Chase: "And horny!"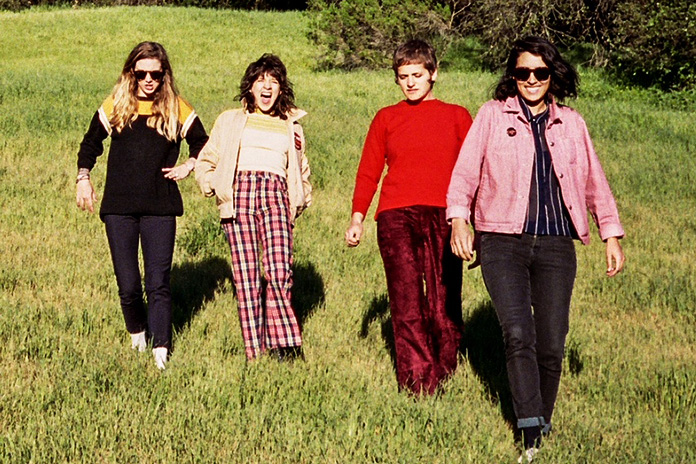 So your new album, Night Leaf, is out this Friday!
All: "Yeah!"
How did the recording process go? I read that you worked on it at a ranch in California.
Chase: "Oh, it was so dreamy."
Glenn: "It was in Topanga Canyon in California, which is a state park just east of Malibu. It's kind of a throwback to the 1970s, a little town centre with a deli, a health food store…"
Chase: "They've got legislature that they can't build new shit there, so it's just stuck in time."
Glenn: "It's the most expensive hippie commune you'll ever come across! But it's cool, you get a little bit of the mountains and green all around you, then you drive 20 minutes and you're in Malibu."
Saara: "We recorded with our friend Kyle Mullarky, who produced the record and engineered it. He has an old pump house that he converted into a small studio.
Glenn: "We tracked everything on the record to tape. Bass, vocals, all that, basics first. It's throwback, '70s vibes, living a little bit carefree."
Saara: "There was also two pigs there, Flower and Mr. Pickles. Flower sleeps inside the house, and Mr. Pickles is like this giant grump-"
Glenn: "He's an asshole. This really big, mean fucking pig."
Lena Simon, bassist in La Luz, worked with you on Night Leaf. As they're also gearing up to release their own new album, was it hard to make that work?
Glenn: "They'd actually already recorded their album in November, so she agreed to tour out with us from New York in January and then played bass on the record. So all four of us ended up more integrated, in the writing process and everything as well."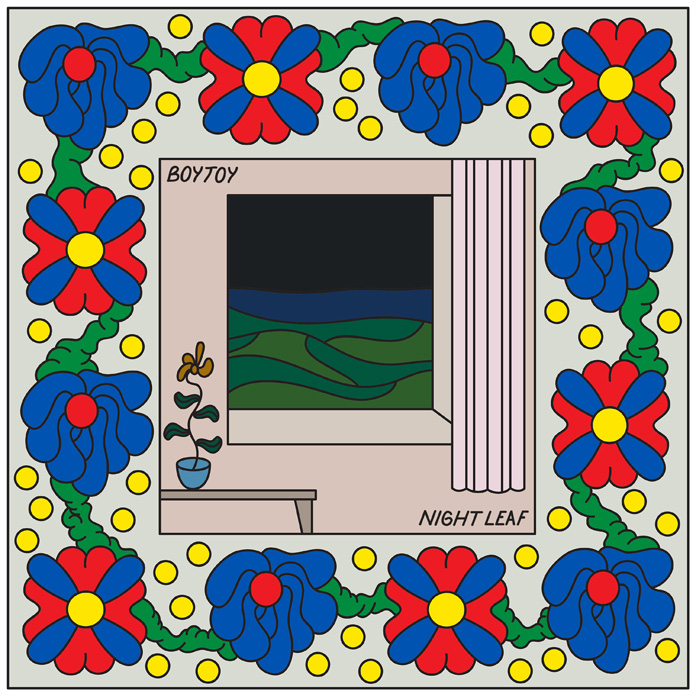 The new album is quite hazy, with a particularly summery vibe. Was that a mood you intentionally set out to create?
Saara: "Not really! It just came out. I think environment affects what you're producing and what comes out, and the mindset we were in out there, it all came together that way."
There's also tracks that differ a little from the relaxed mood, like NY Rip Off, which is somewhat more biting.
Glenn: "I think making a record nowadays, you don't just want to make the same song again and again. I don't want to listen to that."
Chase: "Every song has its own life, and then collectively they all work."
Saara: "You always hear stories of bands on big record labels, where they make a record and then the label tell them that they need a ballad and need a pop song. I think an artist should choose the sort of album they want to make, but I also agree that an album needs all of these different elements. A journey, instead of just a flat line."
Glenn: "You've got to bring them up, bring them down…"
Chase: "Foreplay."
Glenn: "Chase is horny."
Chase: "I'm a sex addict."
Haha, well, that's good to know!

Saara: "You can let people know that's what to expect from our shows!"
Are there any interesting stories embedded within the album?
Saara: "Oh, yeah! Every single bit has meaning."
Chase: "I really like Juarez. We don't normally write a sort of folk song where we tell a story, the lyrics are usually a little more abstract, but Juarez is just a straight-up retelling."
Glenn: "Static Age is cool. We had a melody and some lyrics and we basically overhauled everything, all hands on deck, it was really fun. It's kind of a nod to David Bowie, he was on our minds, so we want to do a subtle but not annoying homage to some of our idols."
Chase: "It's a little esoteric."
Your debut album, Grackle, was released back in 2015. How would you say you've developed since then? Obviously, there's been lineup changes.
Glenn: "I think the big difference is that we spent more time crafting the songs. With Grackle, we had the songs and an allotted time in the studio. It was, like, 'wham bam, done'. For this record we workshopped the songs, and had the luxury of Kyle, who was willing to take extra time to do everything right."
Saara: "Yeah, he's an actual real producer."
Glenn: "After two weeks, when we weren't finished, he wasn't just ripping the chair out from underneath us. He was keen to make it, so we did another week."
Saara: "There's also a lot of different instrumentation. On the previous records we just had guitar, drums, vocals, and then the bass is just overdubs of the guitar parts. On this record, the bass is clearly its own instrument. There's percussion, keyboard, organ, congas…"
Glenn: "We weren't constrained for time, we had a chance to figure it out."
Saara: "Having the other players, too. Like Lena is an incredible bass player, and also really proficient on keys. Kyle also played bass on I Get Distant."
Chase: "And this asshole here! I joined the band, so I guess that made a difference."
Saara: "When Chase joined the band we became all-female. She brings so much power, energy and showmanship to the group. She's so fun to watch play drums and her style of playing and vibe totally freshened our sound."
Glenn: "So with five people in the room, working hard…"
Saara: "People who really wanted to work. Our group now, we all want to put the work in, like we record our shows and listen after the set to see how we can improve. We're really trying to be the best we can be."
Besides from your own music, what else have you been listening to recently?
Glenn: "I've been listening to a lot of King Gizzard and the Lizard Wizard."
Saara: "There's Scott Yoder, who I think is actually going to be in Europe soon."
Chase: "Champagne Superchillin. Those guys rule."
Saara: "The Muckers are really good. They're like heavy rock and disco. They're all Iranian."
Glenn: "There's a band in Florida called The Mother Gooses that I've been recording, so I've been listening to their songs over and over. They're '60s garage pop nuggets."
Saara: "Our friends Habibi are also over in Europe, I think right after we are, and they hadn't released a new record since 2012 or something."
Finally, is there anything else we should look out for from here?
Saara: "There's going to be a non-music video – a music video without music in it – later this year and we're also back in Europe again in September."
Boytoy's second album Night Leaf is out on Friday 27 April. Their UK tour starts on 13 May in London and includes stops in Cardiff, Glasgow, Brighton, Newcastle and Bristol.
Boytoy UK Tour
May 13 – The Lock Tavern – London, UK
May 14 – The Moon – Cardiff, UK
May 15 – Nice N Sleazy – Glasgow, UK
May 16 – Sticky Mike's Frog Bar – Brighton, UK
May 17 – Cobalt Studios – Newcastle, UK
May 18 – The Crofter's Rights – Bristol, UK
May 20 – The Shacklewell Arms – London, UK