"We need to sustain it, do it all again this year to really make an impact."

Last year Fighting Caravans made a splash when their rootsy rock sounds graced the stage at Reading and Leeds Festival and their new music drew in fans around the UK.
The Leeds five-piece are named after a 1930s western – although nobody in the band has ever seen it – and draw on influences from the contrasting worlds of early US blues and modern alternative rock.
Fighting Caravans release a new single this month through cult label Clue Records – as part of their exclusive Clue Club – before tour dates and releases throughout the year.
Katy Blackwood sat down with the band at their first gig of a crucial 2017, where the lads discussed the latest on their new material, and also revealed:
Plans to add an extra member to the band;
The story behind their bizarre recent video for In Sicily;
Hopes for a bigger tour later in the year.
Read on for the full interview, and follow FEISTY on Twitter and Facebook for our latest features, recommendations and news from the UK scene and beyond!
Thanks for sitting down for a chat guys! How has your 2017 been so far?

Daniel: "It's been alright. No one's died yet, that's a good start."
Alex: "Oh, a few people have."
Ross: "Yeah, the whale! That was genuinely quite sad."
Alex: "Really? Aww, Jesus."
You were in the studio recently recording a new EP. How did that go?

Daniel: "It was good. We recorded at The Nave, which all of the bands from Leeds seem to do at the minute, there's a really good sound there. We're pleased with the results, but we think the EP is going to end up being a series of singles instead."
So, going back to the beginning, and specifically Daniel. In researching this interview, I found your old SoundCloud, with all your solo material on it!
Everyone laughs
Daniel: "How did you find that?!"
Alex: "Send that 'round!"
There's actually a bio on there, saying you're a "charming young Yorkshire person with a delectation for knitwear". I'm wondering if you still love jumpers?
Daniel: "Haha, well, I find them a little bit more irritating than I did back then. The portfolio of clothing's not increased too much."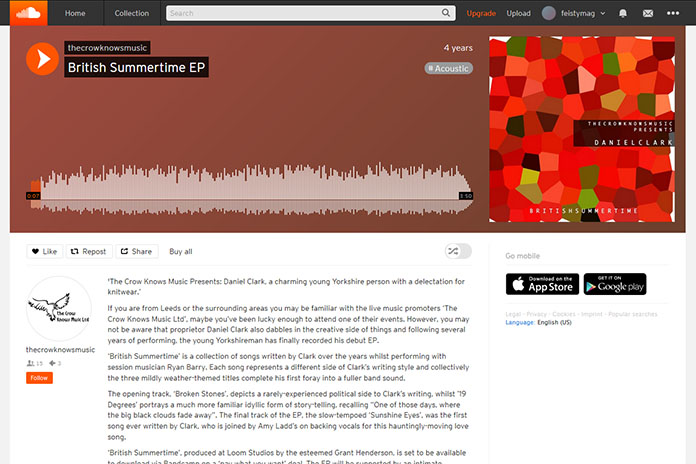 That was back in 2012, when you were a pop singer-songwriter. Your stuff was very different, what made you change paths so drastically?

Daniel: "To be honest, I was never really into that kind of stuff, I'd only just learned to play guitar and started writing a few songs that mirrored what was in the charts. Eventually it got to a point where I thought, 'I don't like what I'm putting out', so I decided to do something totally different."
How did Fighting Caravans first come together as a band from there?
Daniel: "I put the band together with another guy that left soon after. I got in touch with my cousin, who knew Ross, and he brought along Sim. Alex and I are technically related-"
Alex: "Technically!"
Daniel: "Well, his parents are my godparents and vice versa. Josh was a late addition, we'd been through like four other drummers and he got in touch when we needed one. We've been together for about eighteen months with this lineup."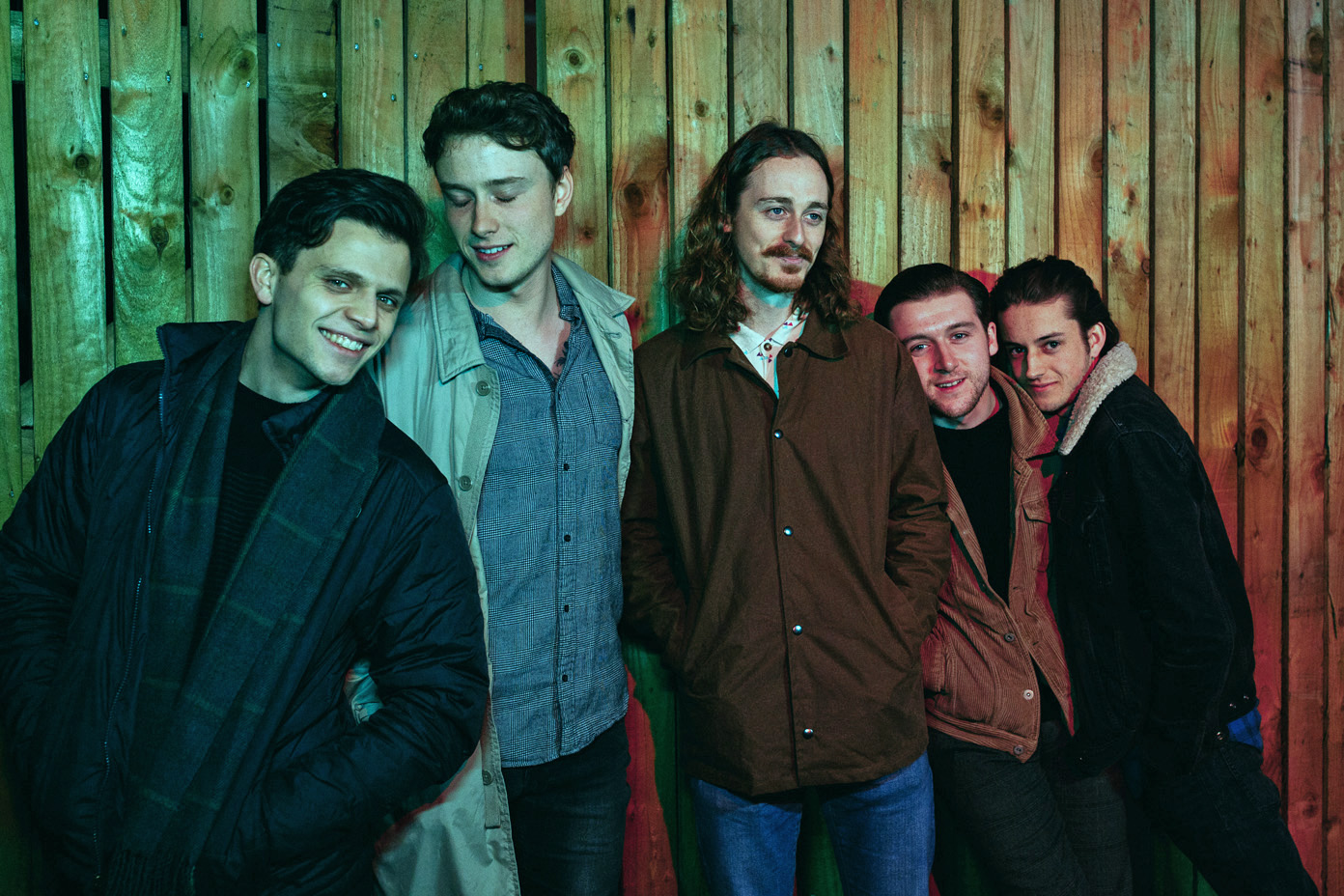 Speaking of drummers, why is Josh called "The Sesh"?
Josh: "Eh, what?"
Daniel: "I keep changing the nicknames on Facebook, and I called you Dave 'The Sesh' Hogan."
Josh: "Why did you call me that? Ah, Jesus. Is that what you're putting on the press releases?"
Daniel: "It might be."
Alex: "You are now, 'Sesh'."
You might be getting a sixth member soon, apparently?
Daniel: "Well, we're trying! We've started to introduce keys, but it's difficult enough to get five people in the same room, so six is also proving difficult. On the recordings there's elements of keys on there, and we want to replicate that live. Hopefully we can do that at some live shows this year."
Josh: "It changes the sound dramatically, but we haven't really done anything as a six-piece yet."
Daniel: "I expected by this point we'd have an extra member, but life doesn't work that way."
So the name of the band comes from the 1930s western of the same name. Would you say that your music is informed by that sort of movie?
Daniel: "Have any of us even seen it?"
Alex: "We've never even watched the film."
Ross: "When we started we wanted to be a bit more American, and the idea was that nothing's really more American than a western."
Daniel: "We need to watch it really. We're all into that [Quentin] Tarantino kind of movie, we go for that kind of sound."
While we're discussing art, you recently released the video for In Sicily. It's a bit weird!
Josh: "It was my idea, wasn't it?"
Alex: "Yeah, it was!"
Josh: "The Mexican stuff and the dancing, that was me, it started out as just that and it got weirder and weirder as we drank more tequila."
Alex: "We'd had a fair amount to drink."
Daniel: "We'd tried in the past to shoot our own videos, because it's too expensive to hire anybody. When you're shooting your own you've got a lot more control. It fits in with our whole philosophy that you shouldn't take things too seriously."
Last year you played some big festivals, like Liverpool Sound City and later Leeds Festival. How did that change things for the band?
Alex: "It definitely spurred us on, rocking up and seeing what it could be like every year for us. When you get a taste for it, you just chase it more and more."
Daniel: "We haven't really noticed anything too significant off the back of it, besides people being impressed. Maybe it's helped us get a few more gigs here and there, but we need to sustain it, do it all again this year to really make an impact."
You've hinted recently that your sound has changed. How has the new music developed from what's come before?
Alex: "For want of a better word, it's got 'weirder'. It's moving away from the Americana of the first EP, there's a lot more sounds and the introduction of keys."
Daniel: "It's just becoming more like us. In the beginning it was driven by the songs that I'd already written, and then Alex brought along his influences, and now it's all of us as a collective really."
Ross: "We've started writing differently too. We used to do it in a practice room, where it's all big and loud, but now we sit around in a bedroom with acoustic guitars and that's changed the way that we do things."
Politics seems to be a big part of your writing, or at least a recurring theme when people write about you.
Daniel: "It's not party politics, but more personal political stuff? A lot of the songs are a social commentary, either poking fun at that, or also poking fun at ourselves for being part of that."
You're releasing a new single this month via Clue Records' Clue Club, called It's a Nice Ride (To Be Fair). How did that come about?
Daniel: "We're friends with a few of the bands on the label, and we know Scott [Lewis, Clue Records founder]. He was talking about wanting to do something with us, and we said we were in the studio and had something that'd work really well. It was a quick thing, perfect timing really."
So it's quite exclusive, and if you're not a member of the club you don't get the music, right?
Daniel: "Yeah, you've got to sign up to the Clue Club, and there's a maximum of 100 sign-ups. The members get a free single every month for the year and some other extras. After two months the songs get released publicly."
Is it strange to be releasing a new single to a small audience, knowing that most people won't be able to hear it?
Josh: "Not really, the plan was always to release the single in March. It's cool to be part of, the fact that it's quite exclusive and that a select few get to hear it first."
Ross: "The sort of people that'll be subscribed have a genuine interest in bands like us, too."
Is there anything new you can tell us about your upcoming music?
Daniel: "There's going to be some singles on other labels. We can't announce them yet, but we've played them all live already. We're moving away from the idea of an EP, spending a lot of time writing, and hoping to put out more releases in a shorter period of time in the future."
What else is coming up in the world of Fighting Caravans?
Daniel: "We're planning some live videos, and we've got a few festivals in the summer. There's Karma Fest, which is a psych fest with some really good names like Lola Colt, and SouthCider Festival. There's others that haven't been announced."
So there's some bigger festivals already lined up this year?
Daniel: "There's definitely one bigger festival. It's that time of year when we're waiting to hear. We'll hopefully be announcing a bigger UK and European tour for November."
It's all pretty busy then! Finally, looking forward to 2017 in general, what sort of year do you think this is going to be?
Daniel: "The way the world's going at the moment, I think I'd expect more of the same."
Alex: "It's all downhill from here! No, we've got high hopes. As long as we get some nice weather in the summer it should be alright, shouldn't it?"
Fighting Caravans are on Facebook and Twitter. The band's announced the following dates for 2017 so far, with more gigs and festival spots to follow:
January 27 – The Library – Leeds, UK
January 28 – Café INDIEpendent – Scunthorpe, UK
March 4 – The Donkey – Leicester, UK
March 7 – The Polar Bear – Hull, UK
March 9 – TS One – Middlesbrough, UK
March 10 – The Railway Inn – Winchester, UK
March 11 – Old No. 7 – Barnsley, UK
March 17 – The Full Moon – Cardiff, UK
March 24 – Brudenell Social Club – Leeds, UK
May 28 – Karma Fest – Leeds, UK
June 30 – SouthCider Festival – Burton Bradstock, UK