For the first ever Artist Playlist we invited one of our favourite new women in music, Lucy Jowett, to pick out ten tracks that mean something to her.
Lucy is the fiery frontwoman of Dead Naked Hippies, a stormy post-punk trio that have been making waves of late with a stream of gutsy singles and live shows.
Described in our Women on Vox feature earlier this year as "Leeds scene prospects that clamour and barb with unabashed in-your-face style", their music is all about sharp riffs and Lucy's jagged vocals, little abrasive touches and ferocious melodies.
Their self-titled debut EP dropped in September last year, with a new single – Young Male Rage – released on Friday and out now on a 7″ split and digital platforms.
The Artist Playlist is our way of giving musicians, usually the curated, the opportunity to curate a playlist of their own, harnessing their passion for music to receive great recommendations, learn about the music they love, and get closer to their own influences and tastes.
We'll be asking a new musician to take part each week, giving them free reign to select ten tracks and tell us all about them, as well as one favourite from their own past output.
We'll also be chatting to each musician about their own music taste, finding out exactly what made them the artist they are today. In Lucy's case, it all started with pop-punk.
"I was definitely a rock and metal kid throughout my teens," she told us, citing Green Day's American Idiot as her first favourite album. "I was 11 or 12 when it first came out, and that set me up to develop a taste for guitar music."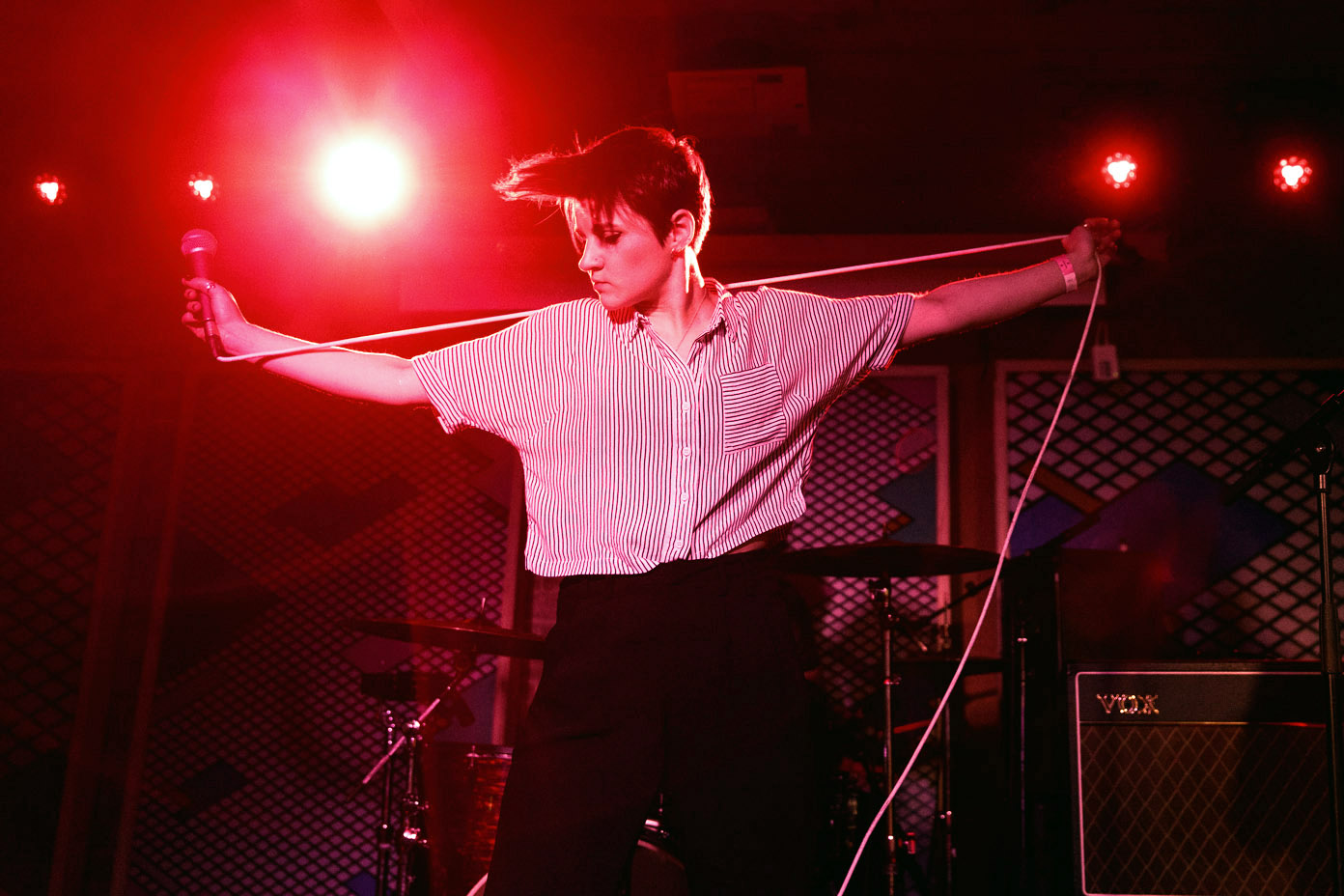 Later on, she discovered classic bands like Sonic Youth, Portishead and Massive Attack through a college tutor, but Radiohead proved to perhaps be the main revelation. "I listened to OK Computer first, and then delved into everything that came before and after. Their development is fascinating, and I hugely respect how they have constantly pushed and reinvented themselves over the years.
"PJ Harvey is another like that. She's also constantly reinvented herself, and her music has always felt very primal. Discovering her was really exciting for me as a young woman."
Nowadays, Lucy cares deeply for artistic integrity, noting: "Music and message is a big thing for me. I'm definitely more inclined to listen to a band or artist if I know that their art is coming from a place of integrity and if they have something to say."
Her playlist choices – packed with powerful women and important messages – reflect her inclinations, and include old favourites, new releases, and a couple of the bands that she's shared the stage with along the way.
Read on for Lucy's picks, or head straight for the music and check out all of the tracks she selected on the Spotify playlist here.
Savages
Hit Me
Lucy says: "I recently listened to an interview where Jehnny Beth discussed the lyrics of this song, and I found it really thought provoking.
"They're centred around the idea that pleasure can come from different places, and the similarities between pleasure and pain. Focusing on the idea that a typically negative signal, for example crying, is seen as a sign of weakness, when perhaps it could be seen as a positive, releasing emotion vital to a specific time in your life to become stronger.
"I think it's a really interesting perspective that can challenge the norms we've put in place, especially the idea that men and young boys can't cry because it will make them appear weak. It's a terrible pile of BS and is very damaging. I like to think that outwardly crying is a sign of strength and a willingness to share emotion."
Taken from: Silence Yourself, May 2013
Follow Savages: Facebook • Twitter • Instagram • Spotify
Anna Calvi
As a Man
Lucy says: "I really respect how Anna is challenging perceptions of gender. This track in particular focuses on the idea of both genders moving to the middle of the spectrum, furthering gender equality. I'm understandably passionate about gender equality, and as far as we've come there's still a long way to go, so I find this song really powerful and empowering."
Taken from: Hunter, August 2018
Follow Anna Calvi: Facebook • Twitter • Instagram • Spotify
Dream Wife
Somebody
Lucy says: "We've had the luxury of playing with these brilliant women twice over the past two years. The first time we played with them was actually only the third Dead Naked Hippies gig, and we got asked to jump in the night before as another band had to drop out due to illness.
"We were inspired by the sense of togetherness they encourage at their shows, and how welcome they made us feel as a support band. It definitely made us consider how we wanted to be at our own shows."
Taken from: Dream Wife, January 2018
Follow Dream Wife: Facebook • Twitter • Instagram • Spotify
Fever Ray
Mustn't Hurry
Lucy says: "This song makes me feel a sense of calm when I start to feel impatient about the things I really want to achieve but have no control over. I'm a serial perfectionist, I'm always ambitious, and I'm never satisfied, especially when it comes to creativity. This song serves as a reminder that it's important to not rush and to let myself breathe too."
Taken from: Plunge, October 2017
Follow Fever Ray: Facebook • Twitter • Instagram • Spotify
Björk
Enjoy
Lucy says: "To me, this song is about being able to go out and experience the world. To enjoy learning about life, to feel emotion and be fearless about it."
Taken from: Post, June 1995
Follow Björk: Facebook • Twitter • Instagram • Spotify
imi
Born For What?
Lucy says: "imi is a Leeds lady too, and a good friend. This track in particular is very emotive and beautiful. It provokes me to think about the human condition and purpose. I think practising self-awareness is extremely important in the modern world because there are so many distractions."
Taken from: Born For What? (single), December 2017
Follow imi: Facebook • Instagram • Spotify
Karen O
Rapt
Lucy says: "Karen O is massively inspiring to me as a frontwoman, in the way that she doesn't put herself on any kind of pedestal because of her gender. She doesn't give a fuck, and seeing that has been really important for me when feeling my way around being a frontperson.
"Women definitely need to be championed in music and encouraged from a young age, but should never feel that their gender is in any way a token, that it has to be highlighted or that they have to live up to what is deemed acceptable, typical or 'normal' as a woman."
Taken from: Crush Songs, September 2014
Follow Karen O: Facebook • Twitter • Instagram • Spotify
Queen Zee
I Hate Your New Boyfriend
https://www.youtube.com/watch?v=q8ag9h1lG8I
Lucy says: "Queen Zee are another band we got asked to jump on a couple of shows with because our friends had to drop out. We're glad we did. They're pushing boundaries and extremely important messages around trans power, self-acceptance and looking after your mental health. Their live shows are insane too."
Taken from: Eat My Sass EP, September 2017
Follow Queen Zee: Facebook • Twitter • Instagram • Spotify
PJ Harvey
My Beautiful Leah
Lucy says: "PJ Harvey is another woman that I find hugely inspiring, as she's never fit into anyone else's mould and has constantly reinvented herself. My Beautiful Leah is one of my favourite tracks from my favourite album of hers."
Taken from: Is This Desire?, September 1998
Follow PJ Harvey: Facebook • Twitter • Instagram • Spotify
Sit Down
Bloodlust
Lucy says: "We played with Sit Down in Brighton earlier this year and they knocked my socks off. That doesn't happen very often! Lovely people too. Their visual style is just as in your face as their music, think noisy AF, matching power suits and a ton of attitude."
Taken from: Cheap Luxe EP, March 2018
Follow Sit Down: Facebook • Twitter • Instagram • Spotify
Dead Naked Hippies
Rare
Lucy says: "We wrote Rare at a time when I was feeling pretty much not myself. I was suffering with a really bad bout of anxiety.
"The idea of Rare was to flip that around and turn all of the negative, bad energy that I had into something positive and unapologetic. We humans are often very good at being hard on ourselves when we're down, which ends up causing us to spiral out of control.
"Rare enabled me to find a way to be compassionate towards myself, and embrace my anxiety rather than demonise it. It might sound odd to some, but it made me feel a lot better."
Taken from: Rare (single), August 2018
Follow Dead Naked Hippies: Facebook • Twitter • Instagram • Spotify
Dead Naked Hippies' new single Young Male Rage is out now. They're set to play lots of live dates this autumn, including HERfest Sheffield and 2Q Festival Lincoln on 3 Nov.