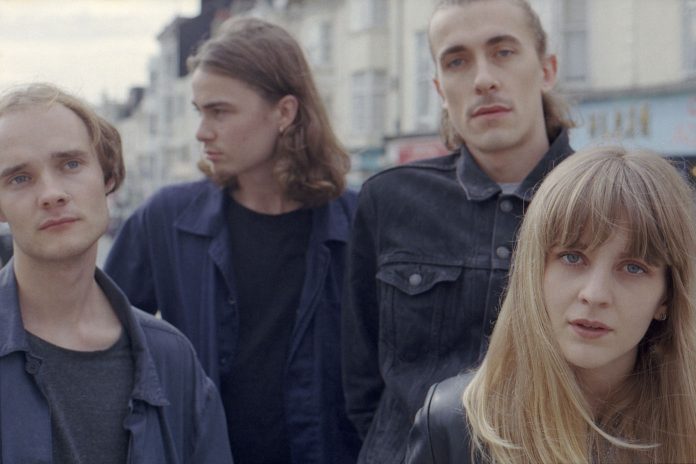 The fifth edition of the Artist Playlist features selections from Millie Duthie, the lead vocalist and guitarist with supreme British newcomers Thyla.
The Brighton foursome are one of our favourite new bands, blending vintage post-punk tones with anthemic dream pop touches, glazed guitars and some sublime, memorable rock melodies across their various singles to date.
Their debut EP – ignoring a 2014 release by an earlier incarnation of the band – is on the way in February, and we're sure 2019 will be a big breakthrough year for a group we called "shimmering gems" back in March.
Thyla's beguiling vocals come courtesy of Millie, who initially met the rest of the band at the University of Sussex, and has since made Brighton and its bustling music scene her home.
It proved a very important decision for the evolution of her own, personal music taste, as she told us: "Moving to Brighton changed everything for me. I owe my musical development to this place, and the friends I've made since being here."
With the help of her friend and bandmates, she's went from listening to primarily singer-songwriters in the vein of Tori Amos and Joni Mitchell to the ethereal brilliance of Cocteau Twins, North American alternatives Alvvays and Warpaint and modern British big-hitters Wolf Alice and Foals.
She added: "I try to listen to everything. I think it's important to have a broad knowledge of what's out there. That said, my go-to playlists and albums are always full of guitars. It's difficult for me to narrow it down any further than that!"
Millie's playlist features some of her all-time favourites, a few current picks from the Brighton scene, and her unashamed "hairbrush and mirror" song – plus her thoughts on and the story behind each of them.
Read on for her picks, or head straight for the music and check out all of the tracks she selected on the Spotify playlist here.
Cocteau Twins
Heaven or Las Vegas
Millie says: "This has to be my favourite song of all-time, so it gets the top spot on my playlist. I was late to the party with Cocteau Twins, only really discovering them in recent years. My whole world changed when I heard Elizabeth Fraser's voice, she's a constant inspiration to me."
Taken from: Heaven or Las Vegas, September 1990
Follow Cocteau Twins: Spotify
My Bloody Valentine
You Made Me Realise
Millie says: "My Bloody Valentine are one of Thyla's biggest influences, both in terms of guitar work and male-female vocal interplay.
"Mitch [Duce, Thyla guitarist] showed me the shoegaze documentary Beautiful Noise, and there's a bit where they talk about MBV live, especially this song's instrumental section. It's totally hypnotic and in some cases uncomfortably overwhelming. I really hope I get the chance to see them live!"
Taken from: You Made Me Realise EP, August 1988
Follow My Bloody Valentine: Facebook • Twitter • Instagram • Spotify
Projector
Full Circle
Millie says: "My favourite Brighton band at the moment. We put on a show for The Alternative Escape this year, and these guys made the basement sweat. I'm really excited about their debut EP, which has just been released. Yes Brighton!"
Taken from: How Does it Feel? EP, November 2018
Follow Projector: Facebook • Twitter • Instagram • Spotify
Warpaint
Love is to Die
Millie says: "I first saw Warpaint at The Dome in Brighton. I hadn't heard much of them beforehand, but my friend made me go with her to see them, because she knew I would love it. I did!
"That gig changed everything for me. I became completely obsessed with Warpaint's Warpaint. I love all of their albums, but this one did something inside. I owe the way I play and think about guitar to these guys. Love is to Die is my favourite song from the album."
Taken from: Warpaint, January 2014
Follow Warpaint: Facebook • Twitter • Instagram • Spotify
JF Sebastian
Komodo
Millie says: "Max [Fletcher, a.k.a. JF Sebastian] and I used to play and write together all the time at college. He played guitar in the early version of Thyla. This is his brand new tune, and it's wicked. I urge you all to check it out. Alt-pop perfection."
Taken from: Komodo (single), November 2018
Follow JF Sebastian: Facebook • Twitter • Spotify
The Horrors
New Ice Age
Millie says: "Mitch also introduced me to The Horrors. Primary Colours was the soundtrack to my life in 2017, I rinsed the album.
"New Ice Age has an untamed desperation to it. 'The agony and the harm is critical' is such a great lyric. They're another band I'm yet to see live, but they've just announced a special 10-year anniversary performance of the album in its entirety at the Royal Albert Hall next year, and I'm so there."
Taken from: Primary Colours, May 2009
Follow The Horrors: Facebook • Twitter • Instagram • Spotify
Breathe Panel
On My Way
Millie says: "Another awesome Brighton band. We really wanted to catch these guys' set at Dials Festival, but unfortunately our slots clashed. I remember hearing On My Way when it first came out. It's one of those songs I wish I'd written myself, what a chorus."
Taken from: Breathe Panel, July 2018
Follow Breathe Panel: Facebook • Twitter • Instagram • Spotify
Radiohead
Karma Police
Millie says: "Thom Yorke is a huge lyrical inspiration. Everything he says on OK Computer strikes a chord with me, and it's still so relevant now. I wish I saw them headline Glastonbury, the footage of them closing their set with Karma Police brought real tears to my eyes. It's in my 'top five greatest songs ever written' list."
Taken from: OK Computer, June 1997
Follow Radiohead: Facebook • Twitter • Instagram • Spotify
Bloc Party
Helicopter
Millie says: "Silent Alarm has massively influenced Thyla's sound. We're all big fans of the band, and have been since before Thyla was born. I think the shared love for this album can easily be heard in our songs.
"I'd struggle to find a release out there that captures the energy and essence of raw live performance as well as Helicopter does."
Taken from: Silent Alarm, February 2005
Follow Bloc Party: Facebook • Twitter • Instagram • Spotify
Macy Gray
I Try
Millie says: "This is my hairbrush and mirror song. We used to blast it loud at home and my sisters, mum, and I would give it our best karaoke shot. The key change is just everything!"
Taken from: On How Life Is, July 1999
Follow Macy Gray: Facebook • Twitter • Instagram • Spotify
Thyla
I Was Biting
Millie says: "I could write about the other songs on this playlist for days, but when it comes to my own it's really difficult. I love all of our releases, but I Was Biting doesn't just express the way I felt once, it expresses the way I always feel, and so it seems most relevant to this playlist."
Taken from: I Was Biting (single), March 2018
Follow Thyla: Facebook • Twitter • Instagram • Spotify
Thyla's debut EP, titled What's On Your Mind, will be released on 1 February 2019. Their next live date is on Wednesday 28 November at The Shacklewell Arms in London.