TEAR – as in ripping, not crying – are four glistening punks that bare a gritty sting on their honeyed sounds.

We described their latest single, Careless Again, as a "surefire DIY epic" recently and their take on garage rock couldn't be better timed than today's political climes.
Vocalist and bandleader Camille Benett is a familiar face on the London gig scene, while drummer Jed Cullen is recognisable as a member of Spector.
They're joined by Ben Maier and Eve-Marie Kuijstermans, although Eve – as on the day of our chat – is often absent at their live shows.
Signed to The Charlatans frontman Tim Burgess' label O Genesis, TEAR are gearing up to unleash their new mini-album VINYL01 on 17 March.
Ahead of the release, Katy met up with the band for an extended interview on working with Tim, the punk scene today, and their unlikely appreciation of U2.
Thanks for taking the time to chat ahead of your Leeds show! Being from London, you've travelled quite a way for this date. Do you have a deeper connection with the region?
Camille: "Last summer we were playing a lot of shows in the north, but they were all for festivals, more up and down the motorway than going into cities. But we met Jed in Sheffield."
Jed: "Can I just add, I grew up in Liverpool?"
Ben: "Yeah, so actually we're quite intimately connected."
Jed: "And The Cribs are from Wakefield, which is close to Leeds. And anyone that plays modern indie rock music will appreciate that Leeds is an important place. And the Kaiser Chiefs, don't forget about the Kaiser Chiefs."
Ben: "I don't really… Yeah, I'll take myself out of that!"
For those that aren't so familiar with TEAR, what's the story behind your beginnings and your highlights so far?
Camille: "Me and Ben grew up on the same street, so that's how we know each other. Jed's in another band [Spector] and he joined, we'd played Liverpool Sound City and we went to see them the next day in Sheffield. We didn't have a drummer, but we were playing Isle of Wight Festival, and he offered to play drums.
"We had some demos that Tim Burgess wanted to record, and that's how we started working with his label O Genesis. We recorded our first EP at Big Mushroom, The Charlatans' studio in Cheshire. Then we've done some more recording as well now, and that's what's coming out!"
How closely do you work with Tim Burgess, being signed to his label?
Camille: "For the first EP, he produced that, so we were all in the studio together, basically living in that studio, it's got rooms and everything! He let us do our own thing, it was him and Jim Spencer. He wasn't really directing us, saying we should do this and that.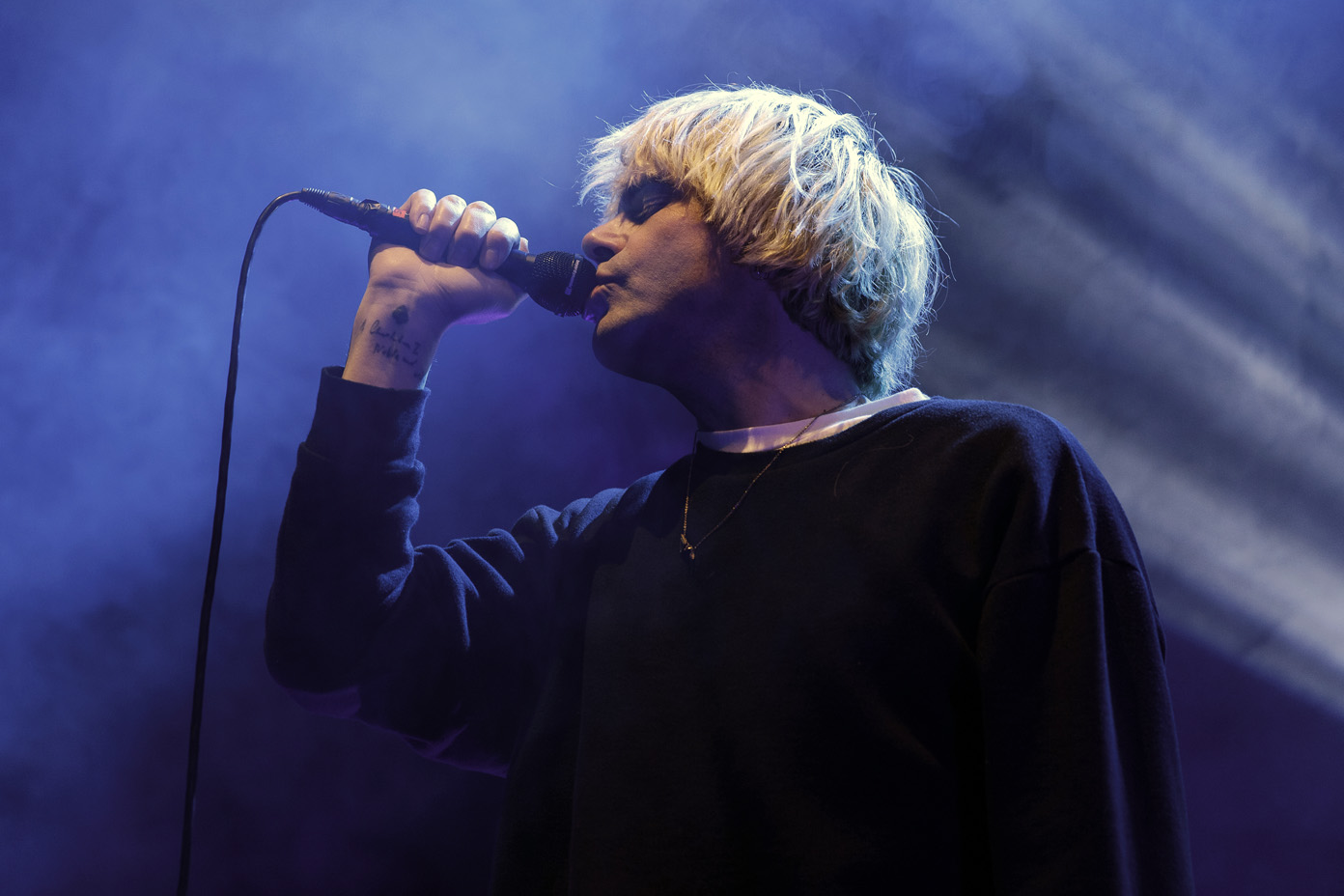 "I suppose the thing with O Genesis is, we're friends, it feels like a little family. I know a lot of the other bands on there, the ones from London anyway. We've also done some recording with Toby [Kidd], who plays with Tim's live band. We're quite a tight knit group."
Ben: "He's like a godfather. He's always been a fan of Camille's, so he's always very friendly and welcoming. We supported him recently at the Albert Hall, and that was really fun. He's so lovely, and he's also a legend."
Camille: "We play loads of Tim Peaks stages at festivals as well, which he curates. That stuff's separate to O Genesis, so we're working together quite a lot."
You recently released the video for your latest single Careless Again. What's the story behind the making of that?
Camille: "We have this thing we've been doing, which has been that we like making our own stuff. It's borne out of the fact that doing photos is quite awkward-"
I'll bear that in mind!
Camille: "Well, you know what I mean? Posing and doing stuff, and we're not necessarily very good at that. So instead we thought we'd just go to random places and get passing tourists to take our picture.
"We went to Los Angeles, toward the Joshua Tree! We were filming that as well, a road trip video. Then we went out in the desert, so we just kind of made it up as we went along."
Jed: "We actually stayed in the motel U2 stayed in when they recorded The Joshua Tree."
Ben: "And we got our U2 photo in front of the motel sign."
I didn't know U2 were such a big influence on you!
Ben: "Only aesthetically, not musically!"
Camille: "Oh my god, Jed got these sunglasses in LA – he actually gave them to a man with no teeth in Scotland on New Year's – but he got these amazing sunglasses from a corner shop."
Jed: "Bono sunglasses. You keep calling them The Edge sunglasses, but he doesn't wear them, does he?"
Camille: "No, nobody in U2 actually wears sunglasses like that."
Ben: "I think as a band we've got an image of U2 collectively as the best band ever, which is not actually the U2 that exists."
Jed: "Although, did you know, this is a little factoid. Who wrote the theme tune to Goldeneye?"
Ben: "Bono?"
Jed: "Bono and The Edge! The demo of it on YouTube is amazing."
https://www.youtube.com/watch?v=e_iTQ4135Xg
Camille: "We also decided that U2 should be called 'Bono and The Edge', because it's a much better name."
Ben: "It sounds like a buddy movie. Like Lilo and Stitch."
Obviously, you went over to the US to do that. It must be quite glamourous, as quite a new band? Not many would go that far!
Camille: "We played a show in LA with this band Gateway Drugs while we were there, which was pretty cool, and with Lucky Otis."
Jed: "I feel like, maybe like early U2, we might be ambitious beyond our means! In videos of Bono playing at school, he's being Bono, but he's young and he hasn't got millions of pounds."
Camille mentioned at one point that, at gigs, she wants to kick people who talk during the quiet bit of songs. What other things annoy you?
Jed: "When people stand there with a camera or a phone, just videoing the whole thing? It feels really weird."
Ben: "I do that!"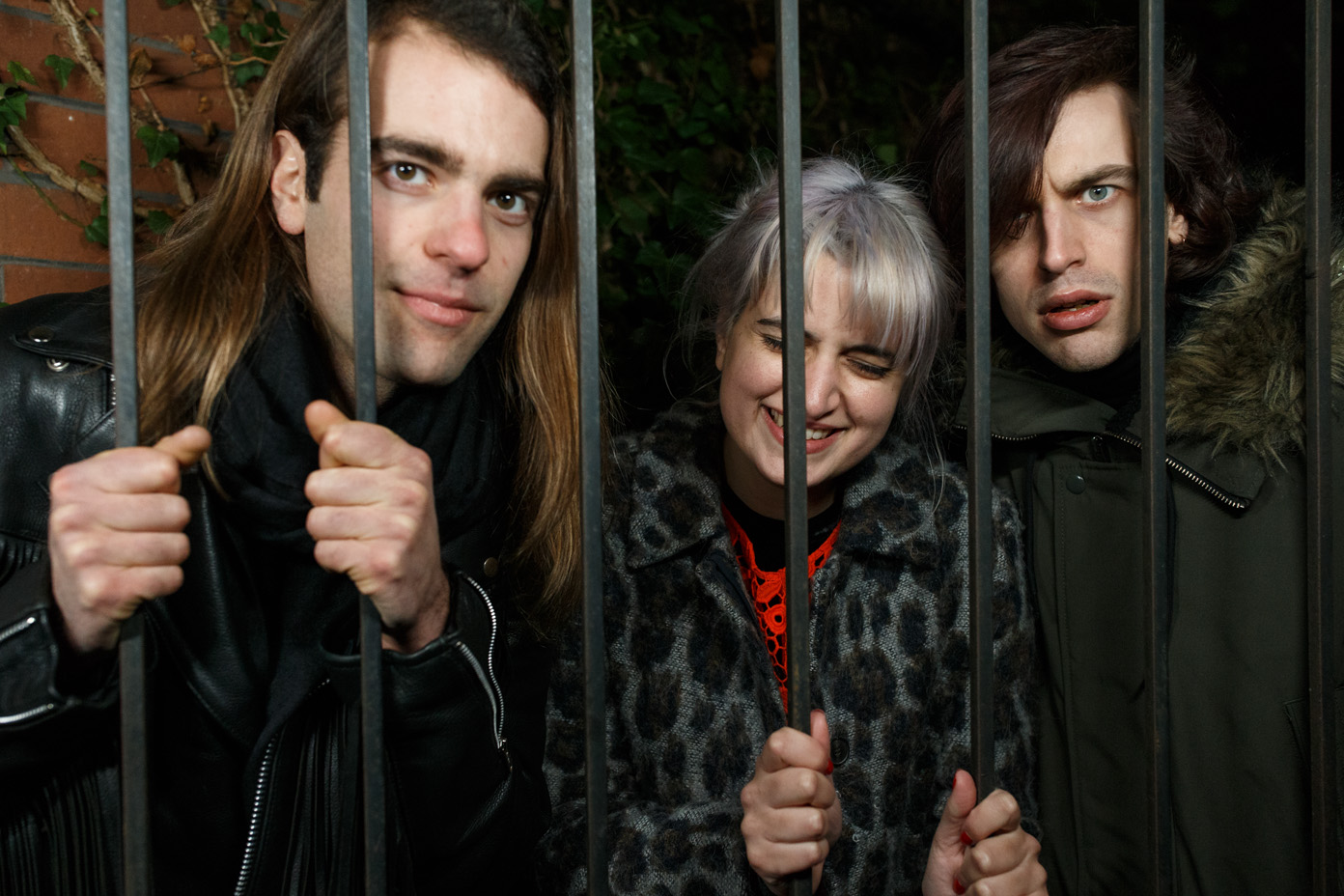 Jed: "Sometimes people do that for an entire show, I don't like that. They're not meant to be watching it through a phone!"
Camille: "When somebody's watching something just through their screen, you think, 'You know this, right here? It's actually happening!'"
Ben: "There's a guy in London who records every show. We played a gig at The Moth Club, and he just sits there in a corner, a well dressed guy with a paper bag. Our manager told us he has a recorder in his bag, and just sits with it."
Camille: "That's bootlegging, though. That's pretty good, I like that."
Jed: "At least he's still watching and listening with his ears, he's not got the recorder over his ears, it's not like someone with a big phone."
Camille: "There are things about playing live shows that are tough. Even now, still, being a girl sometimes you get really weird chat, like, 'You don't know what you're doing.'"
Ben: "Jed and I always jump in and kick the shit out of those guys, though!"
Of course! Tying into that, have you felt typecast at all as a female-fronted band?
Camille: "I don't think there's anything I've taken offense to. It's a tough one for me, because on the one hand, it's a genre that doesn't really imply anything, being female-fronted. But, I overwhelmingly love female-fronted bands of all genres. Probably all of my favourite bands have girls singing in them, so maybe I'm biased that way in myself? It wouldn't really offend me to be grouped in with them."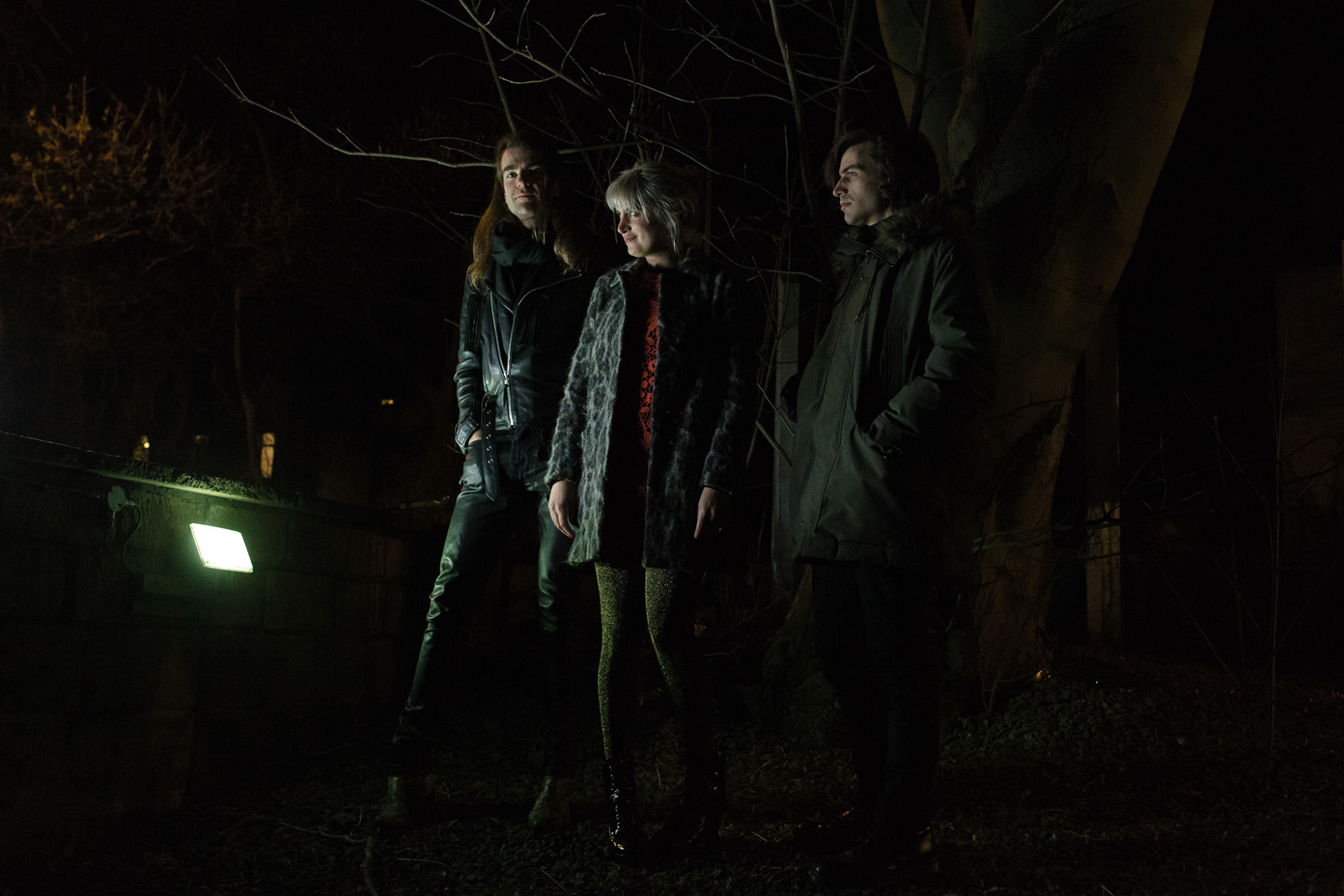 That's quite an interesting take on it. Would you say, then, that it's a good thing?
Camille: "I don't think being grouped in with other bands for no other reason than that makes sense, but if it means you play with other good female-fronted bands, that's positive."
More generally, here's a lot more bands like yourselves emerging at the moment. Do you think there's a punk scene more noticeably again now?
Jed: "I definitely think that young people… I've been playing for four or five years, and I feel like a lot more people are just buying guitars, and liking live music again in a different way that's not so cerebral. I don't know why it's happening, but I have definitely noticed it.."
Camille: "I don't think that there's ever been a time when there hasn't been loads of DIY punk. I think it's the getting the attention that's the difference. Maybe that has changed."
Do you think maybe it has anything to do with politics at the moment?
Jed: "I was just thinking that! We had a period where it just felt, in politics, nothing ever changed. It wasn't necessarily positive, but everyone felt disenfranchised.
"I think when things go wrong in the world, you understand how important music is, and that it's a positive force. All of the musicians that died last year also really brought that home. When Bowie died, all of the times his music meant something? You realise how important music is. As things get more grisly politically, people do feel energised.
Ben: "That strikes a chord with me because I listen to a lot of quiet folky stuff, and I get really bored now if I go to a gig and it's not really aggressive. That's partly to do with reading the news, and it's all so bleak, that being angry and aggressive feels like a better response than being intellectual and thoughtful."
Jed: "Like you know in Twilight how the werewolves, they've always been werewolves, but it's only with the threat of vampires that they only turn into fully-fledged werewolves? It's like that."
Back to your music, and your mini-album VINYL01 is out in March. What are your thoughts ahead of the release?
Jed: "I'm quite excited! We've been screen printing and doing the artwork ourselves, and it's great to see music in a physical thing you can look at. I'm glad that we're making such a nice item."
Camille: "I really like listening to actual records, our first EP was just a digital release."
Ben: "Having a physical trace in the world is nice. Even if people just see you for a little bit, and they take a punt on the vinyl. I have vinyl I got at gigs 15 years ago, and to think you can be that to somebody else is pretty cool."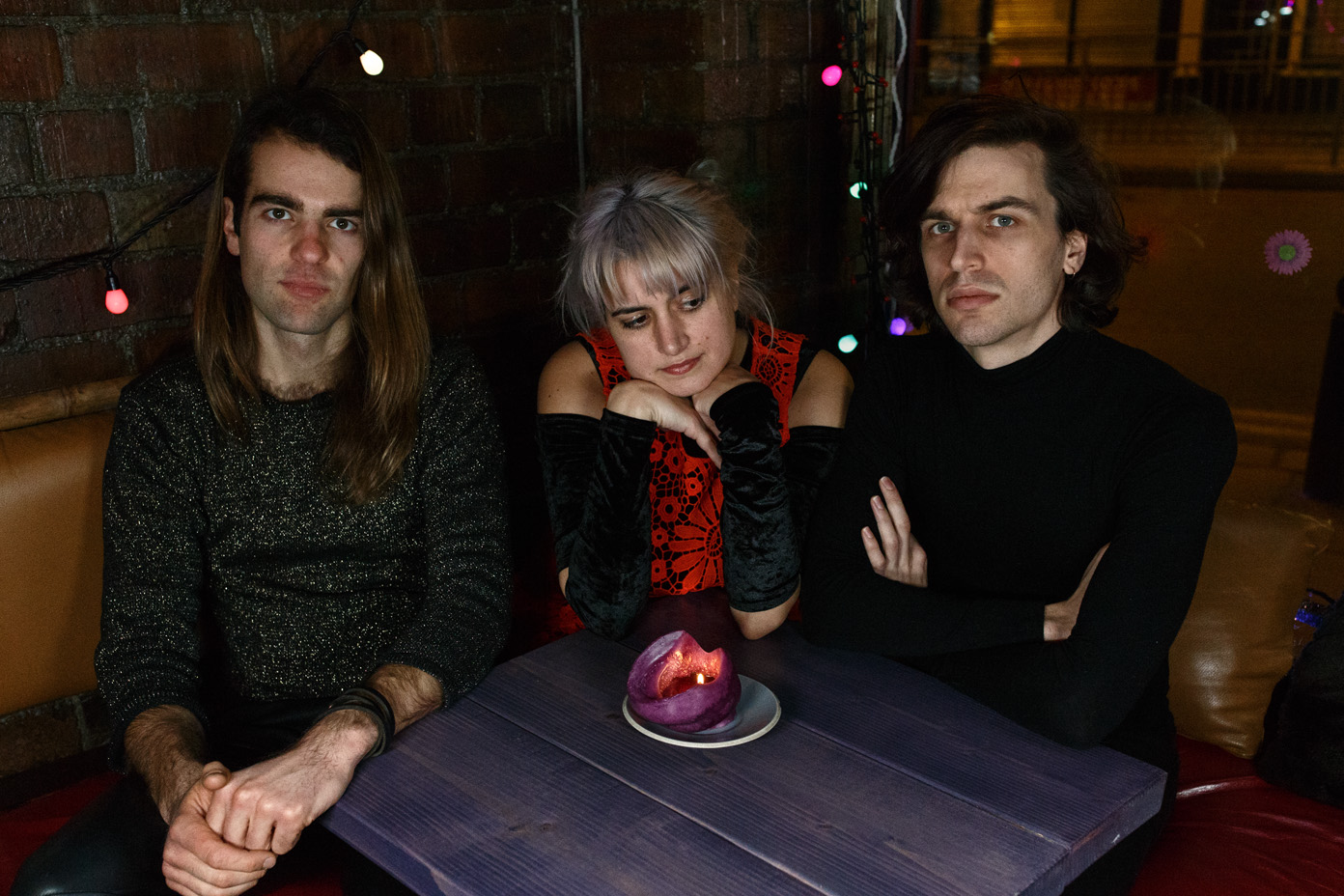 You recorded the mini-album in two parts, with two different production teams. How do their contributions differ?
Camille: "They're really different! The first part was with Tim Burgess and Jim Spencer, that we talked about before. Then the second session we did with Toby Kidd from Hatcham Social at Bark Studios in Walthamstow. I guess that second session is more garage rock."
Ben: "It's a bit dirtier, and it's got two guitars, rather than just one."
Camille: "The Toby stuff is more live sounding, as it was recorded that way."
Looking at what you've said before about the meanings behind the various songs, is it fair to say they're tied in to quite negative events?
Camille: "The time between writing a song, and recording a song, and releasing a song can be quite a distance. Songs just take on different meanings, or maybe that's the way I write them, a bit more open-ended.
"So rather than meaning something that's set forever, that can change. Or sometimes they change their words, sometimes I'm playing them live and I think a line needs to be something else. They're not all about negative things, but yeah, they're quite sad songs, and angry songs."
Looking ahead, what are you going to be up to this summer?
Camille: "We've just confirmed we're going to be playing Kendal Calling again, which will be fun."
Jed: "With the Stereophonics, and the Manics."
Camille: "Yeah! So, we're supporting Manic Street Preachers in Penrith."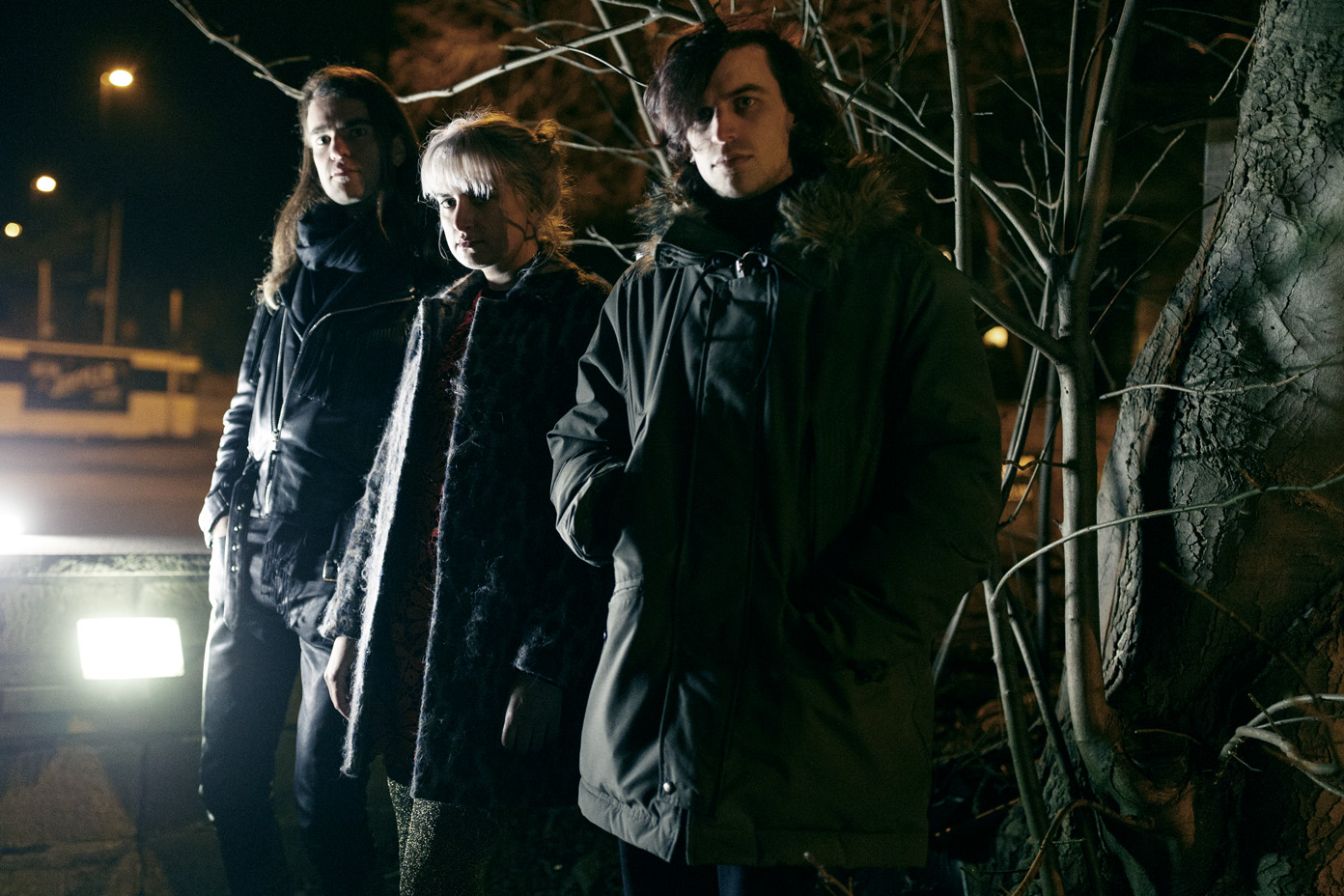 Ben: "We supported Queen last summer [at Isle of Wight Festival], that was even better!"
Camille: "Ha, yeah, true! After that there's others that haven't been announced yet."
Do you think you might be doing a more thorough UK tour? Your latest dates have been quite spotty.
Camille: "I guess at the moment, we're waiting to get our releases sorted out. I'm hoping that maybe in the summer we'll do more."
Jed: "The next tour will definitely be more dates."
Finally, beyond the summer, what are your ambitions from here?
Jed: "Fuji Rocks, a gig in Goa, Coachella…"
Camille: "Ha, Goa!"
Jed: "Drop down to Australia, go to New Zealand, over to Vancouver for a bit of skiing in Whistler, drop down to Boston and New York, go to Jacksonsville and say hi to Fred Durst. Then Disney World, and back to London!"
Is Fred Durst another secret influence there?
Ben: Again, only fashion wise! That's why Jed's called Jed.
Jed: Jed Durst!
TEAR's new mini-album VINYL01 is out on physical and digital formats on 17 March. They're also announced for Kendal Calling, between 28-30 July.
TEAR Upcoming UK Dates
March 12 – The Moth Club – London, UK
July 28-30 – Kendal Calling – Penrith, UK